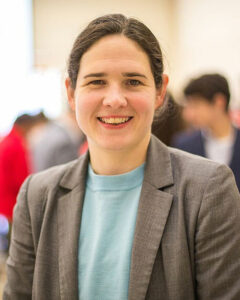 Katherine Skrivan
Director
Mass STEM Hub
Katherine joined Mass STEM Hub in September 2016. She enjoys partnering with our applied learning programs and helping support school implementation. Katherine works to ensure students have access to high quality applied learning that is engaging and meaningful. Her work at Mass STEM Hub combines previous experience in consulting and teaching and she works to help support schools & educators in delivering real world learning experiences for students.
Prior to joining Mass STEM Hub, Katherine taught high school math and coached varsity basketball at Boston Prep in Hyde Park. Previous to teaching, Katherine was a consultant at Bain & Company and the District Management Group, a local firm focused exclusively on consulting in the K-12 education sector. Katherine received a BA in American Studies from Amherst College and her Masters of Education from Boston University and enjoys getting back to Western Massachusetts to see an Amherst field hockey game and get a great slice of pizza.
Currently living in Boston, Katherine and her wife keep busy with their two sons. As a lifelong athlete, Katherine enjoys coaching her oldest son's soccer team and can often be found walking around Jamaica Pond with her family.