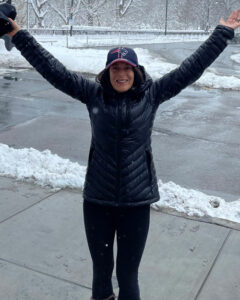 Joanna Jacobson
President & Trustee
One8 Foundation
Joanna Jacobson is a trustee and President of the One8 Foundation. Joanna is passionate about giving others access to opportunities and partnering with leaders with the vision and implementation capabilities to effect true social change. To facilitate this work, the One8 Foundation provides both pro bono strategic planning, pilot grants to test ideas and multi-year grants to support promising implementations. Joanna also co-founded and was the Managing Partner of Strategic Grant Partners, a venture philanthropy and pro bono strategic consultancy which supported the start-up and scale of multiple successful nonprofits from 2002 until its closure in June 2021.  
Before this, Joanna's career was in private industry where she held senior management and marketing positions in turnaround businesses including the President of the Keds Corporation and SVP Marketing and Product Development at the Converse Corporation. Earlier in her career, she worked at Colgate-Palmolive in product management and worldwide new product development. She has also taught at the Harvard Business School and was a partner in Core Strategy Group, a marketing strategy consultancy.
Joanna earned her bachelor's degree from the University of Pennsylvania and a Master of Business Administration degree from Harvard University. She serves on the boards of Youth Villages MA, and HBS Social Enterprise Initiative. In her personal time Joanna can be found outdoors hiking, skiing, snowshoeing, and biking, listening to music, cooking for anyone and everyone, traveling and rooting for the New England Patriots while she tries to win another family fantasy football trophy.