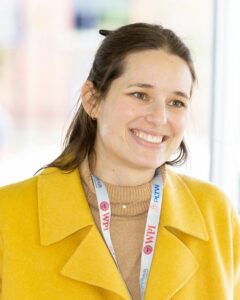 Claire Sullivan
Operations Manager
Mass STEM Hub
With a background in teaching and consulting, Claire is passionate about providing students with access to the highest quality applied learning experiences possible. At the One8 Foundation, Claire focuses on building purposeful data and operations systems to support its work with schools and districts.
Previously, Claire was a high school teacher and assistant volleyball coach and worked for the District Management Group, supporting public school districts across the U.S. with strategic planning initiatives. With her master's degree from the University of Miami concentrated in English Language Arts instruction and a bachelor's degree from Amherst College in Asian Languages and Civilizations, Claire brings a humanities perspective to the Mass STEM Hub team.
Having previously lived in Miami, FL and Wuhan, China, Claire currently resides in Newton, MA with her husband and toddler.