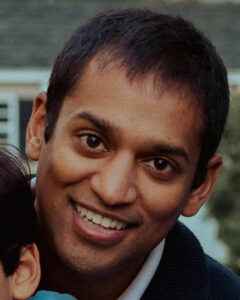 Ashwin Rajendra
Senior Portfolio Manager
Education
At the One8 Foundation, Ashwin has focused primarily on STEM and Education Technology. Taking a somewhat winding path to the non-profit world, he previously was a crude oil options trader and then a consultant at McKinsey & Company, serving financial services and nonprofit clients. Ashwin loves that his work with One8 allows him to bring his experience in strategic consulting and investing to the Venture Philanthropy space in order to improve educational opportunities for students in Massachusetts.
Ashwin is a relative newcomer to Boston, spending time in San Francisco, Philadelphia, New York and London before finally settling down in the snowiest place he's been so far. He loves eating yummy food, running while listening to sports podcasts, and science fiction books. Ashwin lives in the suburbs of Boston with his wife Julie and 2 kids.
Ashwin received an AB in Economics from Princeton University and an MBA from the Wharton School at the University of Pennsylvania.